"being brave and courageous is considered a key principle and enabler of co-design. To be brave and courageous is believing that anything is possible. It is underpinned by optimism and a 'can do' attitude. It requires a shift in the usual way of doing things and understands that any challenge can be overcome with creativity and collaboration" (ACI, 2019, page 14). – NSW Government Agency for Clinical Innovation's 'A guide to build co-design capability'.
Our co-design expertise
Our expertise in working with people with a lived experience of suicide, proven facilitation skills, and demonstrated capacity to develop and lead co-design initiatives, combine to bring a unique set of expertise to lead or partner co-design initiatives – whether it is the development of new non-clinical peer led services, the enhancement of existing services, or the re-imagining of an approach in suicide prevention. As a lived experience of suicide organisation, we have shown that we understand how to ensure critical input from people with lived experience is effectively engaged with all other stakeholders to achieve optimum outcomes that will meet the needs and wants of the community as a whole.
Our lead facilitators hold qualifications in Social Work, Law, Mental Health & AOD Support Work and Peer Work.
They also have extensive experience working in mental health services, both in the community-managed and public health sectors.
All lead facilitators have advanced skills-based knowledge of trauma-informed and recovery-oriented practice and a deep understanding of how to work effectively with marginalised individuals and groups, particularly priority populations in the context of suicide prevention.
Considerations when co-designing with people with a lived experience of suicide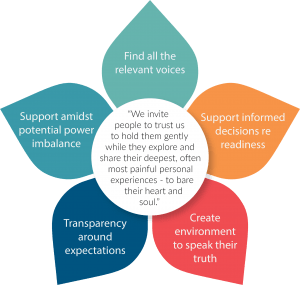 Our co-design approach
Our approach is grounded in the values of Roses in the Ocean itself and is built on our co-design principles: honest conversation, equal partnership, inclusion, shared decision making, innovation, purposeful involvement, and integration in conjunction with the Lived Experience of Suicide Engagement Principles (2022).
Roses in the Ocean has invested time, expertise and resources into co-designing a co-design approach specific to working with and designing services for, people with a lived experience of suicide. Our approach aligns with the values and principles of co-design outlined by the Agency for Clinical Innovation and is informed by the Experience-Based Co-Design (EBCD) method.
We are very attuned to the need to manage expectations and support people during periods and situations where power imbalances need to be navigated respectfully to achieve best outcomes for the end user. Read about Managing Expectations and Power Imbalance.
Our co-design framework
Roses in the Ocean has developed a co-design framework structured specifically to suit the suicide prevention context and to capture the iterative nature of genuine co-design. The core elements of this framework are:
a specialised lived experience of suicide co-design facilitation team to understand the need to be met
lived experience stakeholder mapping and engagement, including recruiting people with a lived experience of suicide relevant to the project and supporting them to make informed decisions about their readiness to actively and meaningfully participate
other stakeholder engagement where relevant including people who are most affected by decisions about the types of services that are co-designed
training for all stakeholders on co-design values, principles, and processes
a commitment to internal and external evaluation of the co-design process and its outcomes
customised resources / tools / activities relevant and appropriate for the co-design of programs and services to improve support for people impacted by suicide and informed by existing best-practice methods in the health and social services sectors
a model of co-design grounded in the core values and principles of evidence-based co-design methodology that is committed to its fundamentally iterative nature
Partnerships in co-design
We recognise the importance of forging collaborative partnerships with government agencies and health and social services organisations that maximise the capacity of co-design initiatives to generate the best outcomes for everyone involved. We work with service providers on-the-ground to determine and clarify organisational parameters and operational hard boundaries upfront and to ensure there is alignment with relevant lived experience and state or territory guiding principles for each individual co-design process.
To further strengthen this framework and provide additional support for the co-design process, Roses in the Ocean has partnered with Beacon Strategies, a mission-based health and social services consultancy, whose core areas of expertise include health planning, service design, project management and implementation support, evaluation and reporting, training and facilitation, and communication and engagement. Beacon has expert capability in supporting service providers organisations to design, establish and implement service models in the health and social services sectors. Beacon Strategies has worked extensively with Primary Health Networks and Hospital service in a number of states and territories.
Roses in the Ocean and Beacon Strategies are increasingly involved in leading co-design processes to ensure that collaborative, lived experience informed, human-centred solutions to the addressing identified needs are developed, tested, monitored and evaluated in ways that produce programs and services that are effective and sustainable
Lifeline Queensland: Men's suicide prevention program – the design of a new service to provide support to men living in regional, rural, and remote Queensland.
Community-led Safe Spaces (Tier 4) – pilot in 2021/2 and additional 15 spaces over 2023-25
Alternatives to ED Safe Spaces project for 20 Safe Havens (Tier 3) – NSW Ministry of Health (2020-22)
NSW Post Suicide Support Service – StandBy, Roses in the Ocean, Jesuit Social Services, UNE consortium
Brisbane North PHN Safe Spaces Network – 4 x Safe Havens (Tier 3)
Peer CARE Companion Warmline (Roses in the Ocean service)
Peer CARE Companion: in community (Roses in the Ocean service)
'Crossing Paths' Carer Support Service – collaborative project with Wesley Mission QLD, Gold Coast Hospital, Gold Coast HHS and Beacon Strategies.
Peer Enhancement Model of Beyond Blue's The Way Back Support Service (TWBSS)
Local co-design of pilot Peer Enhancement Model of TWBSS – Murrumbidgee
Lived Experience capacity building workshops
Lived Experience Resources